Toad Cove Yacht Club
The best place on the Lake of the Ozarks to store any size of ship! As a member, enjoy a fitness center, pool with a swim up bar, two restaurants and shopping.
Reserve A Spot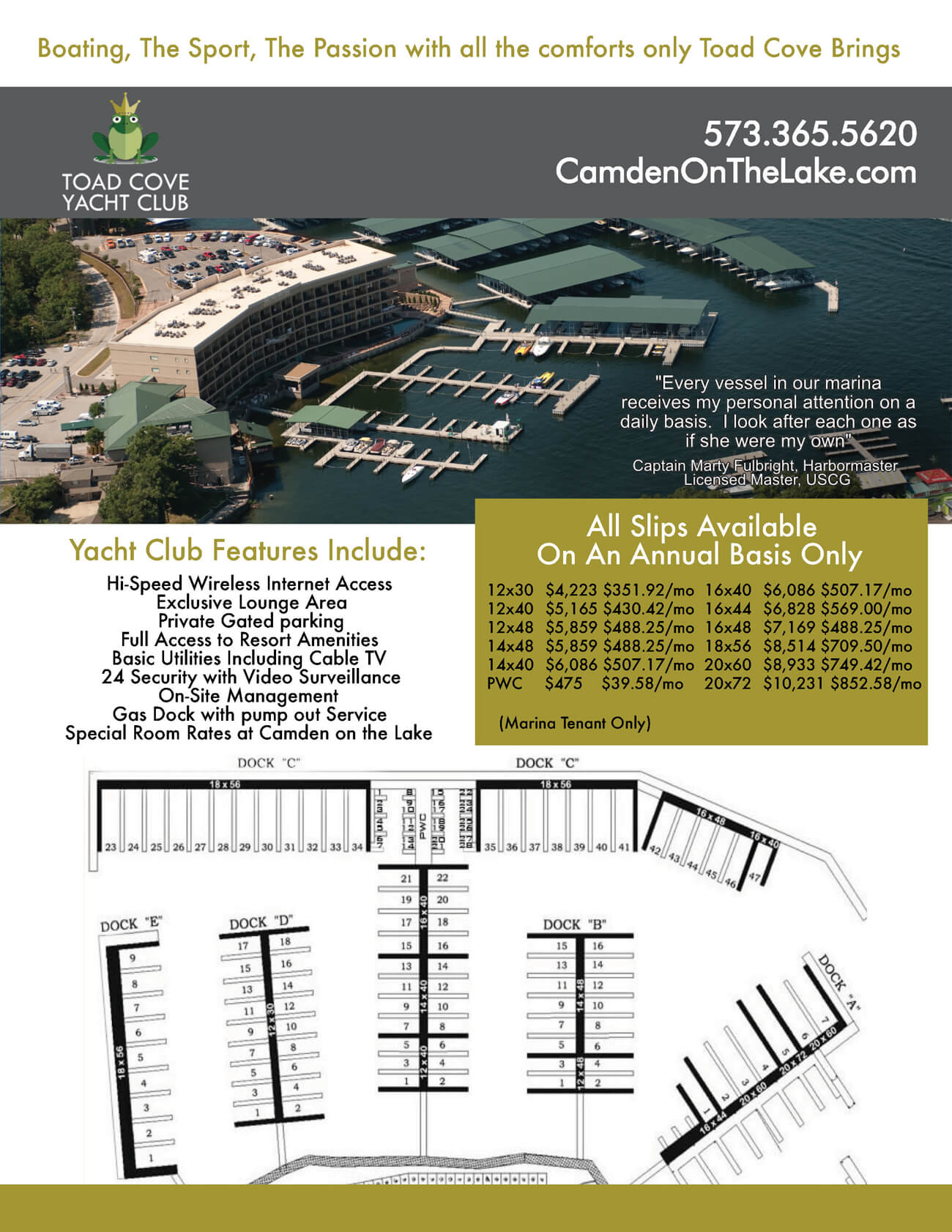 The Toad Cove Yacht Club is located at the seven-mile marker of the main channel on the Lake of the Ozarks and has quickly become known as the ultimate location to keep ships of all sizes. Not only is this fantastic yacht club located adjacent to some of the greatest waterfront hot spots you can find, it is also connected to a world class resort with all the amenities you would expect.
Yacht Club members along with resort guests enjoy a wonderful fitness center, two hot tubs, a pool with swim up bar, and a movie theater. We also have live entertainment on Summer weekends, two restaurants, retail shops, a full service AVEDA spa, and even a Coffee bar right in the lobby.
We offer covered boat slips ranging in size from 30 to 72 feet that offer wide walkways and fingers, protected by a state of the art breakwater system. In addition, the Toad Cove Yacht Club has luxurious private shower facilities, a laundry room, and even a clubhouse just for its members. We have a 24-hour pay-at-the-pump gas dock and a full service convenience store that is well stocked with all the essentials and more.
Located adjacent to the Horny Toad Entertainment Complex, the Toad Cove Yacht Club provides the best of two worlds: you can enjoy the peace and quiet of an exclusive private marina with a stunning view of the main channel or experience the unlimited nightlife with just a stroll down the boardwalk.
Contact Harbor Master – Austin French
H. Toad's Bar & Grill
Pool & Swim Up Bar
Chill Bar
Toad Island
Horny Toad's Entertainment Complex
Stage Bar
Hopper's Tiki Hut
Bombay Boat Rental
Public Boat Slips
Gas Docks
Meeting Facilities
Spa 54
Toad Island Market
Boutique at Camden
Camden on the Lake Resort
Marina


1. H. Toad's Bar & Grill



2. Swim-Up Bar



3. Chill Bar



4. Toad Island



5. H. Toad's Entertainment Complex



6. Stage Bar



7. Tiki Hut



8. Bombay Boat Rentral


9. Public Boat Slips



10. Gas Docks



11. Meeting Facilities



12. Spa 54



13. Toad Island Market



14. Boutique at Camden on the Lake



15. Camden on the Lake Resort



16. Marina
Harbor Ballroom
Camden Conference Room
Shawnee Bend Room
Grand Ballroom
Multimedia Theatre
(inland side of building)
Lakeside Room


1. Harbor Ballroom



2. Camden Conference Room



3. Shawnee Bend Conference Room


4. Grand Ballroom



5. Multimedia Theatre



6. Lakeside Room